Blog Archives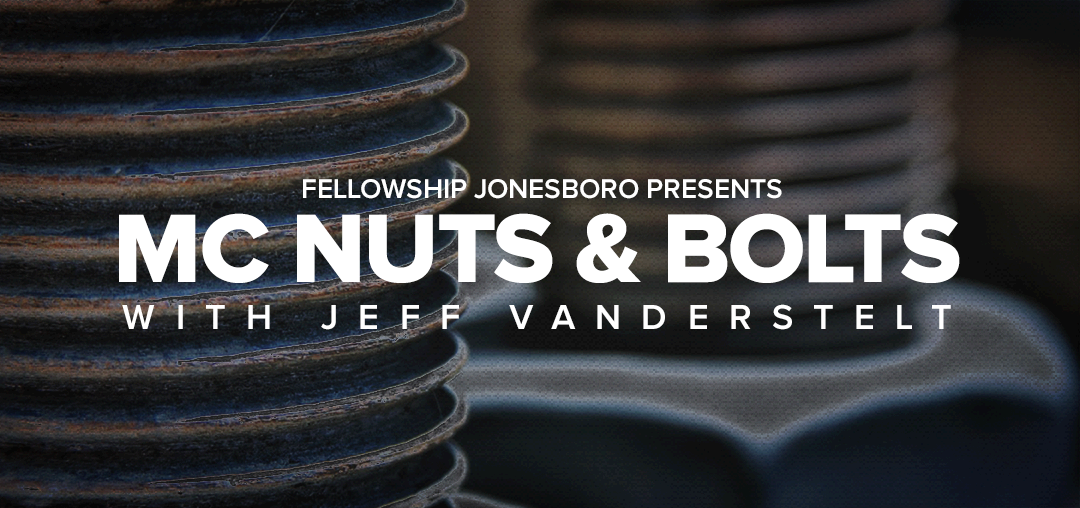 We at The Exchange Community are taking a number of our MC leaders and members down to Jonesboro.  We've learned a lot from Jeff, Soma, and the GCm Collective.  So we thought we'd share this great opportunity.  Here is what is publicized about the training:
We believe that communities centered around mission are the heart of what God has called His Church to be and do. Soma has helped developed successful missional communities all around the world. This one-day training with Jeff Vanderstelt will tackle the nuts and bolts of living and leading missional communities. Our recent One Day focused on the "Why" and "What". This training will focus on "How"…

How to make disciples with your family
How to love and bless your neighbors
How to live everyday life with gospel intentionality
How to make disciples out of the overflow of the gospel
How to listen and follow the Spirit for fruitful mission

MEET JEFF VANDERSTELT

Jeff Vanderstelt is one of the leaders of Soma Tacoma, a multi-expression, church-planting church. He is the Visionary Leader of Soma, a family of churches spread throughout North America. Jeff is married to Jayne and together they love and shepherd their three children in gospel, life, and mission.

DETAILS

This event will take place on Saturday from 9am-4pm at Fellowship Jonesboro, with registration from 8–9am.

The cost is: $49/individual or $69/couple and includes lunch.

Please register for this event by 10am, Friday September 13.
You can register at Eventbrite
I've learned a whole heck of a lot from Soma Communities, on Church Planting, Sharing the Gospel, and missional communities that we are implementing in the creation of The Exchange Community in Jackson, Mo.  Recently Soma did a fast track training for their missional community leaders.  This is some great material to go through if you're leading a missional community or are interested in starting a missional community
Here's the links to Soma's Fast Track Training Audio/Video and their notes:
1. The Story of God // Caesar Kalinowski
The Story of God Training Videos One & Two
2. Vision for Missional Communities // Jeff Vanderstelt
3. Gospel, Power & Purpose // Jeff Vanderstelt
4. Gospel DNA // Jeff Vanderstelt & Abe Meysenburg 
5. Gospel in Everyday Rhythms // Jeff Vanderstelt
6. Gospel Fluency // Jeff Vanderstelt
7. Creating a Disciple-Making Enviroment // Jeff Vanderstelt
8. Gospel Shepherding // Abe Meysenburg 
DNA Guide // Your Story, God's Story
9. Missional Community Covenant // Jeff Vanderstelt  
10.  Spirit Led Life // Jeff Vanderstelt 
11.  Spiritual Warfare // Jeff Vanderstelt
Here's a link to all of their materials
Picture found here along with the post: Ten Reasons Missional Communities Fail
Our Missional Communities regularly goes through the Story-Formed Way, an interactive storytelling and dialogue covering the major narratives of scripture.  We rehurse the Gospel Story regularly to one another and look for any oportunity to share, and remember among ourselves, what God has done and is doing for us to renew all things.  We do this because we want our people to see their lives as substories in the larger Story of God rather then live in some lesser narrative.  Yet we also want our people to know the Gospel Story well enough that they can share it with others.
Arron Spiro and the bands from Soma Communities have created some great Story-Formed Music that is meant to accompany and reinforce the narratives of the Biblical Story.  They tell the biblical story beautifully, yet do so in a modern sound that both the churched and unchurched can relate to.  Click on the Album covers below to preview or purchase the albums.